JustColor.net artists are never bored of offering you new exclusives coloring pages. What we like even more is the diversity of our original creations.
We appreciate an artistic creation especially when it asked us a lot of time of realization, just as we prefer a beautiful bouquet of flowers prepared and composed by ourselves rather than a simple bouquet bought at the florist.
As a result, spending much time to color a coloring page will give us a lot of satisfaction because it will have asked us more details, more perseverance and more reflection in the choice of the colors.
To give you a good and long coloring moment, our team reproduced a wall tile full of small details, from the 18th century.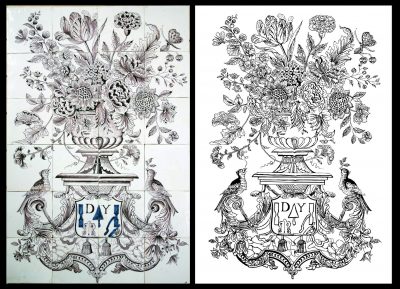 Left: A wall tile representing a flower vase and birds dating from 1740 (Netherlands).
Right: The coloring page we created from this masterpiece
Don't hesitate to color this exclusive creation, and to send us the result with the feature " Your creations".
You can find other coloring pages of that kind in the galleries Art or "Flowers and vegetation.