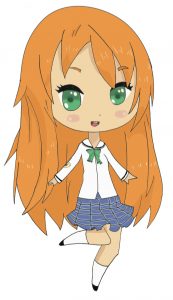 Hey girls doesn't this chibi guy look sweet ?
I'm gonna show you the steps to follow to draw a boy as a "Chibi" character.
It's perfect to create funny drawings of your friends or your boyfriend !
Step 1
Realize the preparatory sketch by drawing the head and the body.
Be careful : A chibi has specific body proportions, far from the real human anatomy. You can follow this tutorial if you need help about it.
Step 2
By using the sketch, draw the character's main lines.
Place the eyes above the horizontal line, make the shoes, the tie and the folds on the shirt.
For the hair, make the strands of hair.
Step 3
Reenforce the lines with black felt pen with a skinny point and take off the marks of gray pencil with a rubber.
Don't forget the details inside the eyes and on the checkbones.
Step 4
Now with a software like Adobe Photoshop, felt pen or colored pencil, color the character with the main colors.
Step 5
Add some details like shadows or lights effects in the hair, the skin and the clothes.