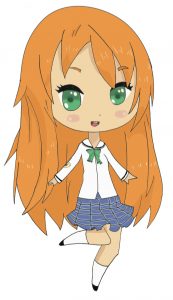 Did you know that in Japanese mangas, "Chibi" refers to tiny characters ?
I'm going to teach you how to draw a "Chibi"girl character …
Step 1
Realize the preparatory sketch by drawing the character's shape in gray pencil.
Start with the head and the body.
Be careful : A chibi has specific body proportions, far from the real human anatomy. You can follow this tutorial if you need help about it.
Step 2
By using the sketch, draw the character's main lines.
Place the eyes above the horizontal line, make the hands and the legs.
For the hair, make the strands of hair and the contours of the hat.
Step 3
Draw the main lines by using gray pencil. Add the details inside the eyes, the eyebrows, strands of hair and the folds of the skirt.
Step 4
With black felt pen with a skinny point, draw the character by using the sketch, and take off the marks of gray pencil with a rubber.
Step 5
Now with a software like Photoshop, felt pen or colored pencil, color the character with the main colors.
Step 6
Finally, add some details like shadows or lights on the hair, the skin and the clothes.