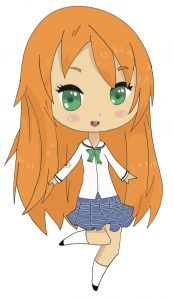 Ready to fight ?
Let's learn with me how to draw a valiant female warrior. Attention, under her nice airs hides a fighter without mercy … ready to fight against the strongest warriors.
It's a moving character, with effects on the hair and clothes. For this drawing I count on you to handle your pencil with confidence and fluidity, it is the key for this warrior to seem to be in full action, not resting!
Etape 1
Draw the character as a sketch.
The main thing is to correctly represent the location of the face, the components of the face, the position of the limbs, the look of the hair, not to mention the saber of the warrior.
Be careful to position and proportion the limbs so that despite his complex posture, the character remains realistic and coherent. You may have to repeat it several times: draw, check the overall appearance, erase and correct … until the sketch seems perfect.
Etape 2
Once your sketch is finished, detail the face, especially the eyes.
Do not hesitate to follow this tutorial on the eyes in the Manga / Anime drawings, it can help you to represent them well.
Etape 3
Now detail the warrior's clothes, preparing the areas that will eventually be dark to represent the folds and movements of the fabric.
Etape 4
For this stage we finalize the design, with a black felt with fine point for the contours, and with thick and flexible point for the folds / shadows of the clothes.
So you have to redraw the lines of the sketch, represent the hair in a supple, airy way, with lines slightly curved and fluid to represent the movement … Your warrior must have a hair slightly moving, as if she had just jumped and landed in this slightly crouched position!
For the folds / shadows of the garment, color the areas prepared in the sketch, with felt with thick and soft tip.
Etape 5
The final step consists in drawing shadows in the hair and on the clothes.
To do this, use one or several gray pencils, in order to play with several shades of gray.
Do not forget to use this shades of gray effect to represent the metallic effect of the warrior's sword.