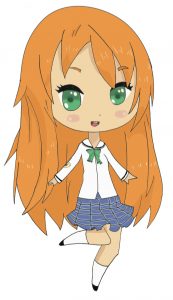 Hair is one of the main characteristics that distinguishes a character from others.
They make it unique, define its personality !
As Lady Gaga says "I just wanna be myself, I am my hair" … I'm Lady Manga but I like Lady Gaga 🙂

Step 1
First, define your character hairline.
Determine a point of which all the hair will leave.
Step 2
Now, define the direction the hair must take from the point.
Step 3
It does not matter from where you start, the most important is that the hair follow the direction of the red arrows.
To draw the hair, you must start from the top to the bottom of your page.
The end of the hair strands is always thin and sharp.
TIP: Do not hesitate to turn your sheet while you are doing it!
How to create a volume effect?
To make the hair more real, add highlights and it will create a volume effect.
Once you have drawn the hair, define the position of the reflects and then color the hair by using color frames or by doing thin lines by using black.