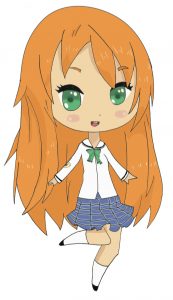 Our first Manga heroine is here !
Ino Yamanaka is a character from the manga entitled Naruto. Being a ninja as well as Naruto, she is a very talented girl but also stubborned : she doesn't hesitate to speak her mind.
With this tutorial, you will be able to draw a manga character like a true mangaka !
Step 1
Realize the preparatory sketch by drawing the character's contours in gray pencil.
Start in first with the clothes, then the head and finally the arms and legs.
Step 2
By using the sketch, draw the character's main lines.
Start to draw the hair, the feet, the hands and some details on the arm and the right leg.
Step 3
Draw the final character with pencil and add some details on the face, the clothes features, the hand in the background and the flower in his right hand.
Step 4
Draw all the lines of the sketch with black felt pen with a skinny point and take off the marks of gray pencil with a rubber.
Step 5
Now, with any software like Adobe Photoshop, felt pen or colored pencil, color the character with the main colors.
Step 6
Finally, add some details like shadows or lights on the hair, the skin and the clothes.