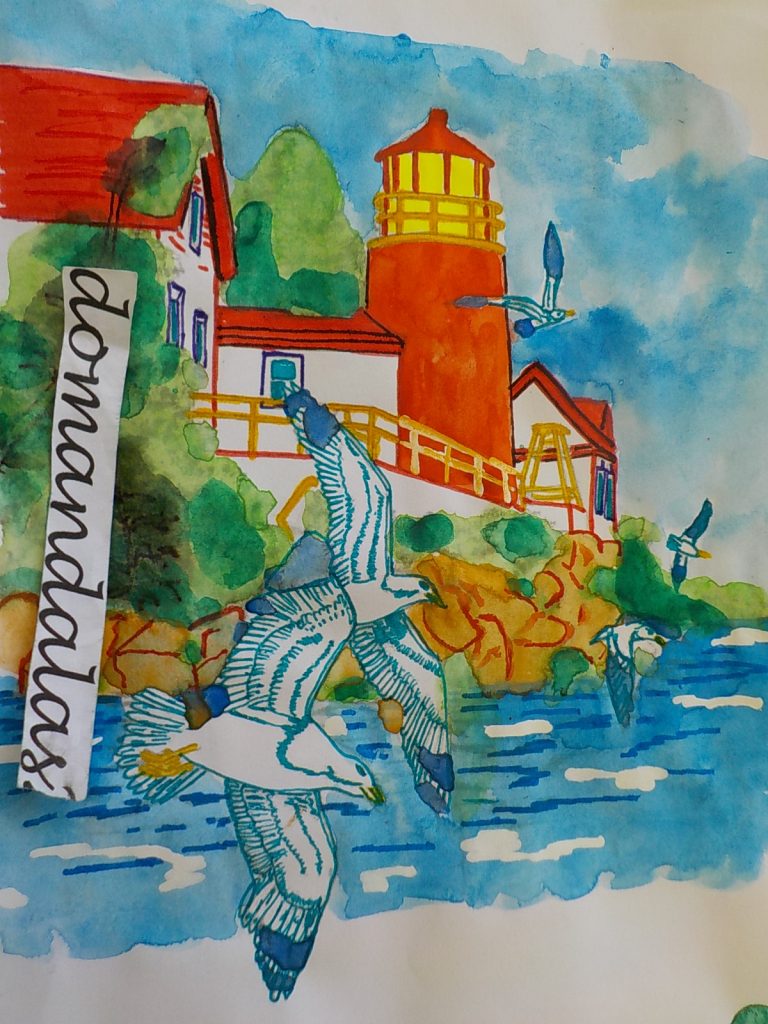 I want to go on holiday !
To escape a little I choose to color a marine landscape … Watercolor is a perfect technique for this type of subject … I prepare my material.
I prepare therefore : a small pot full of water, 2 brushes: one detail brush, and one die brush.
I use a basic watercolor not too expensive bought in supermarket, it will fit very well.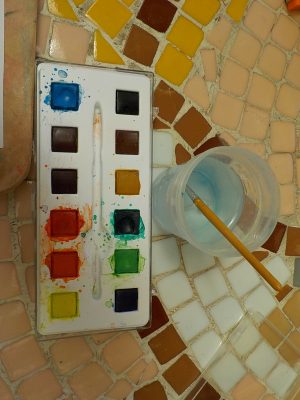 Step 1
Here is the coloring page I chose.
It is a seascape, with beautiful seagulls in the foreground, an imposing lighthouse and beautiful seaside houses.
So it's perfect for me ! I will think about the holidays that are coming while painting !
This coloring page is available on the website, you will access it by following this link.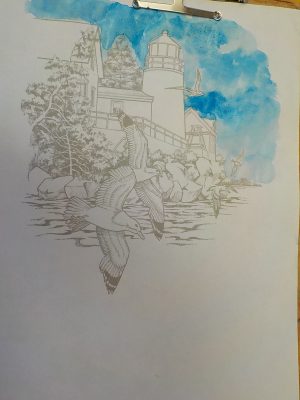 Step 2
I wet the sky with water (without colors). Yes Yes … You will later discover why I use this technique. I paint in blue color, which will spread and give a non-uniform appearance.
A watercolor should be light, fluid. I make small circular movements with the brush. Then, I turn the sheet in all directions so that the color fuses.
Step 3
Then I do the same for the sea. No panic if the paper becomes curled. When the coloring will be finished and dry, it is necessary to deposit it between 2 books, and all will be well after few hours.
I let it dry.
I paint in blue on the edge of the sea to darken it.
I rinse my brush.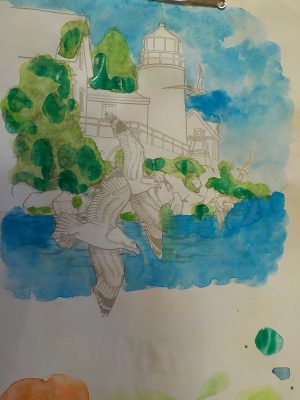 Step 4
I'll use my two types of green color for the vegetation in background. Same technique: water, color, then movements of the leaf. I alternate emerald green and light green.
I rinse my brush.
Step 5
Let's work on these beautiful gulls !
I add dark blue color a the end of the wings of the birds.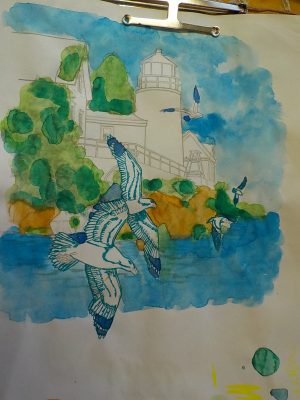 Step 6
I finish the gulls with the sky blue color, the beak in yellow as well as the legs.
With each change of color, rinse the brush thoroughly.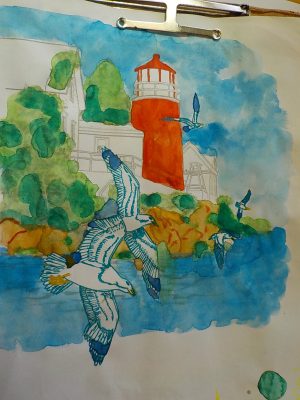 Step 7
I paint the lighthouse in a very warm red color, so that it can be seen from afar, then I sprinkle red on the rocks.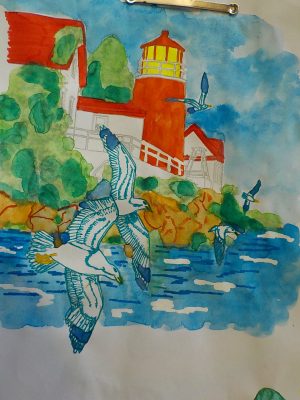 Step 8
I paint the roofs of the seaside houses in the same color that I used for the lighthouse.
It's better not to use too much different colors.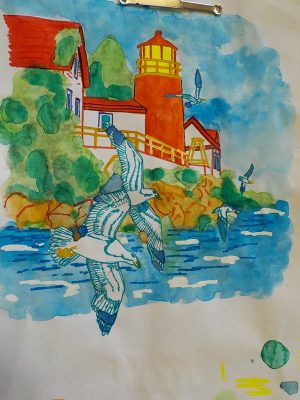 Step 9
I now work on the finishes : brown around the roofs, purple around the windows, blue on the windows, orange for barriers, white for foam.
Oops, I forgot the big tree. Quick, a little of brown color, but I do not like. I turn green on.
There I am happy.
You can use all the colors you want, Realistic or not.
Unleash your imagination. The colors will arrive by themselves.
So, you will have a great time just as I just did.