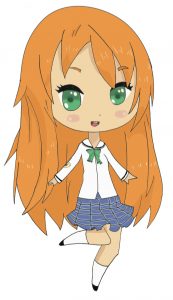 An angel is a divine creature, supposed to deliver a message to man kind.
In the manga culture, angels are gifted powers and abilities, guiding and helping their allies.
So here are some tips for you if you want to reproduce that imaginary character.
Step 1
Be careful to leave a space between the eyes.
If this space is well done, we must have room to place another eye between the two.
Step 2
For the hair, always choose the same direction, never go in the opposite direction.
Don't hesitate to follow this tutorial to learn how to draw hair.
Step 3
To give this folded effect to the wings, it is necessary to draw them in two parts (the one put forward and the other in the back).
Step 4
Make 3 rows of feathers (it's enough, to keep the draw and the character simple). Make the last row longer than the other two rows.
Step 5
Finally, to make this effect of folds in the dress, fade with your finger on the desired plot.