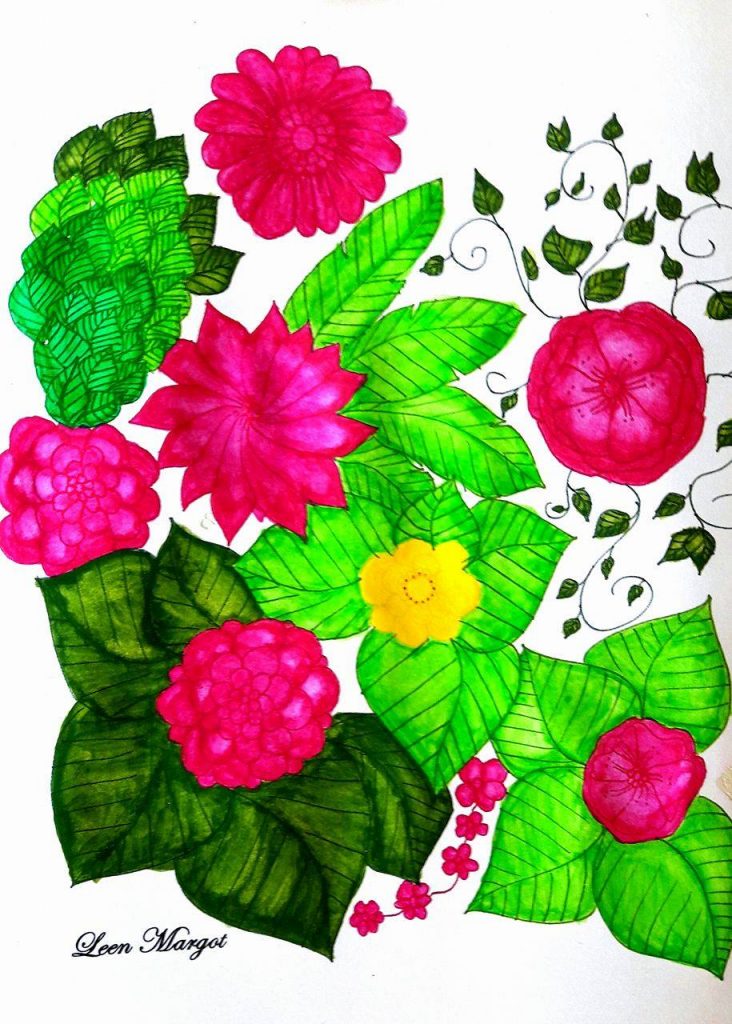 Do you know the Colorzen ? It's coloring pages indicating the colors to be used directly on the contours of the elements present.
Leen Margot offers many of this original type of coloring pages in this gallery of our site.
Sophie, a regular user of our website, offers a tutorial based on one of the models of Colorzen available.
The specificity of this tutorial : the coloring is made with "aquararellables" pencils (or watercolor pencils) !
Here's Sophie's step-by-step instructions.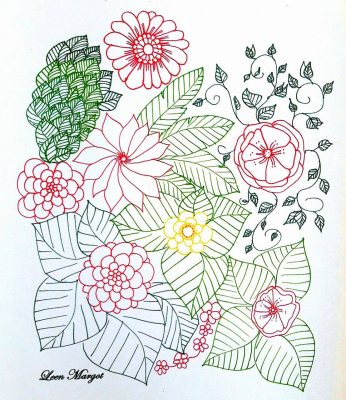 Step 1
I chosed to color a Colorzen by Leen Margot, with watercolor pencils.
Colorzen : in this type of coloring, the colors are suggested by the colored line.
The coloring page on which I will apply my colors is this one. It represents various types of flowers and leaves. It's relatively simple, very suited to the type of technique I have chosen.
First of all you have to print the illustration on thick paper so that it does not curl because of the water that will be applied.
Tip: Size your colored watercolor pencils well and color in circles.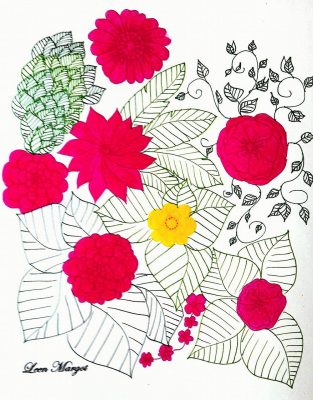 Step 2
I start by coloring the flowers in red and yellow.
Color uniformly, variations and gradients will be added afterwards.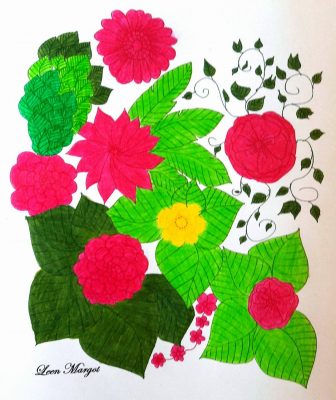 Step 3
I now color the leaves, in two or different shades of green.
Same principle as for flowers : one color uniformly applied for each group of leaves.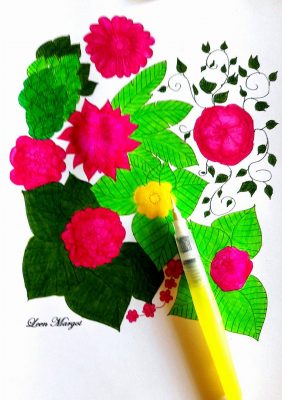 Step 4
Then I use a tank water color brush that I fill with clean water.
It's a more accurate tool for coloring than a traditional watercolor brush.
I watercolor the flowers in the direction of the flower petals.
The aim is to obtain a realistic and harmonious gradient in the petals, reproducing the effects of reflection or color variations that can be found in nature.
Step 5
Finally, I watercolor the leaves, regularly rinsing my brush between each change of color.
Care should be taken to make clearer the areas of the leaves between the main vein, the secondary veins and the outer edges.
And here … A watercolor Colorzen!