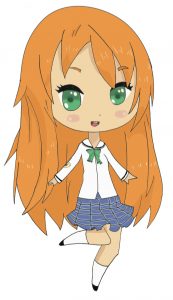 I've always want to create a basket­ball team !
That's why in this tutorial, we'll draw a basket­ball player, in Manga / Anime style !
Yes it's very original 🙂
Step 1
Realize the preparatory sketch by drawing the character's contours in gray pencil.
Step 2
Using the sketch, make the character's main lines.
Draw him a face helped with the cross drawn the last step, hair and t-­shirt.
For the eyes to respect the Manga / Anime style, don't hesitate to follow this tutorial.
Draw the folds of the tshirt, just enough to make it realistic.
Step 3
Detail his t-­shirt, you can change the number if you want.
Step 4
Iron now in black felt pen with a skinny point and take off the marks of gray pencil with a rubber.
Step 5
Now with any logiciel of retouch, felt pen or colored pencil, color the character with the main colors.
Step 6
Finally, add some retouch like shadows or lights on the hair, the skin, the ball and the t-
shirt.