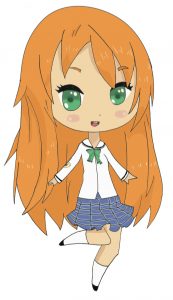 Ninjas are a symbols of the traditional Japan. A lot of mangas have been inspired by their mysterious aspect and attitude …
In this tutorial, I will learn you to draw a Ninja in Chibi style, go !
Step 1
Realize the preparatory sketch by drawing the body.

Be careful : A chibi has specific body proportions, far from the real human anatomy. You can follow this tutorial if you need help about it.
Step 2
By using the sketch, make the character's main lines. Detail the arms and the feet to give a more realistic aspect to the character.

Step 3
Draw the final drawing with a pen with skinny point and take off the marks of gray pencil with a rubber.

Step 4
Now with software like Adobe Photoshop, felt pen or colored pencil, color the character with the main colors.

Step 5
Finally, add some details like shadows or lights on the clothes.