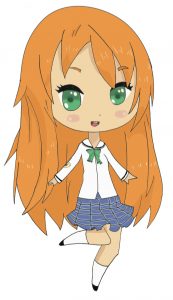 Learn to draw eyes is necessary for any apprentice mangaka
That's why we will see together how to draw it, with this third variant of our tutorial dedicated to Anime Eyes !
You can also follow my first and second tutorial to learn to draw eyes in Manga / Anime style.
Step 1
Draw the shape of the eye, the eyebrow and the iris.
Draw a hole in the iris for the reflect in the eye (like a little Pacman mouth !).
Step 2
Make the upper area of the eye darker, to reprensent the eyelashes.
Don't forget to make a point for the pupil.
Step 3
Color the eyebrow, the crease of the eyelid and the iris.
Draw shadow just below the upper line of the eye.