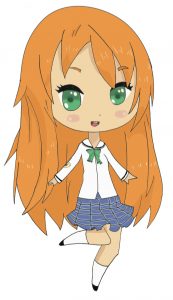 In order to produce good quality manga drawings (or at least give yourself the best chances), having the required materiel is essential.
What are the drawing materials used by Manga Artists (Mangaka) ? I answer this question in this tutorial.
The paper
If you begin in Manga / Anime drawing, simple copy paper (A4) is enough to practice.
The price for 500 pages being around 5$. Its principal default is its thickness, making erasing more difficult without folding the page. It is also possible to use drawing paper. In case of manga, pages slightly larger are used (B4).
There also exists paper with marking on the edges, to know the place a drawing should occupy on the page and its size limits. In this case, DELETER Paper (amazon link) seems to be the norm.
A pen
Simple pencil
To draw, a pen is almost mandatory. Even if a simple pencil is enough, most people use a mechanical pencil (0.3/0.5mm) … having to sharpen a simple pen all the time is boring.
Non-photo blue
It is also possible to use a non-photo blue pen. This pen permits to let some construction lines on the paper since it will not be visible after digitization.
Eraser
A good eraser is important. Be careful not to use an old one, since it could leave traces on the paper.
Multiliners
Multiliners are used to ink the lines of a drawing.
Once dry, it is possible to color the drawing without having the ink smudged over the page. Its only drawback would be, when using an eraser over it, it fades.

Nibs
I advise you Nibs G and Kabuta. These two types of nibs are used to draw larger elements, such as the characters. Maru nibs are used to draw details.
Maru nibs are small and straight. It lets you draw thin lines, but be careful, with it, it is easier to damage the paper.
Their price however is quite high, especially if you have a steady pace, the regular change is quickly felt.
Lightbox
It is a simple box illuminated from beneath. While drawing on it, it is possible to use the transparency of the paper to easily recopy parts drawn ahead of time.
Also these tools are necessary when drawing on paper, it is possible to obtain the same result by using a computer, for example using a graphics tablet.
The process is faster once the tool is mastered and the result is equal if not better in most cases. The ease to redraw until obtaining the required result without having to erase by hand helps a lot. But a reaction that often comes from tablet users is that they prefer to draw by hand on paper, saying that 'the feeling is better'. There comes the opposition between easing the work or getting more pleasure while drawing.