Before beginning making Zentangles ® or Doodles, if you are not used to draw, I advise you to practice a little bit …
Here is a simple step by step method to learn the basics of tangle and doodling drawing.
After having drawn these patterns, you should be able to draw different kinds of Zentangles ® or Doodles : easy to difficult.
The more you become comfortable, the more you will reap the benefits of this creative activity : relaxation and meditation.
1 : Using

Drawing Pen with medium point (0.5 mm)

: Draw these different kinds of very simple patterns …
The goal is to be able to make these sort of lines very smoothly and confidently.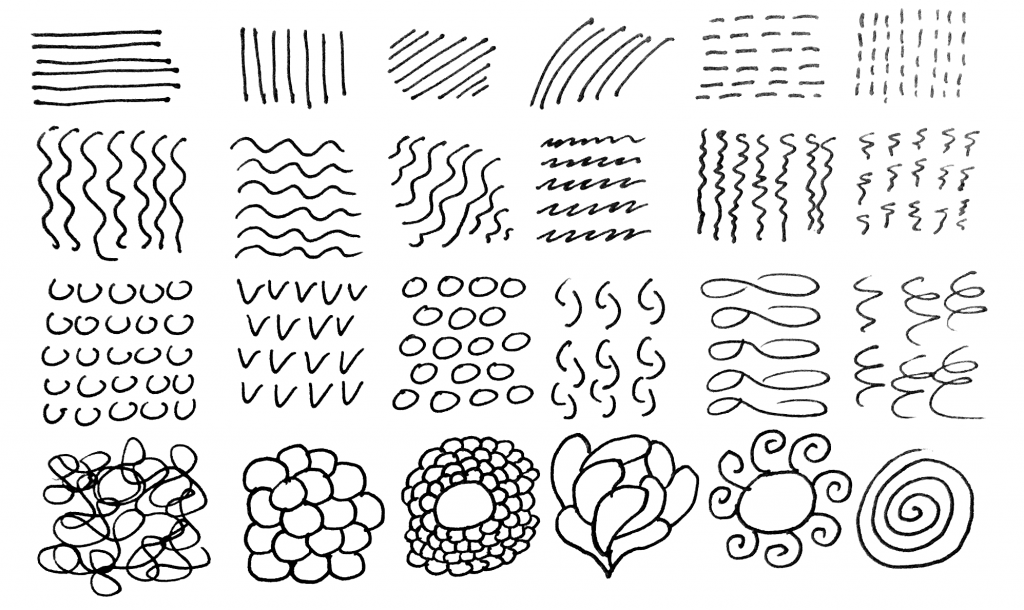 2 : Using

Drawing Pens with fine point (0.1 mm to 0.3 mm) and thick point (0.7mm or more)

: Compare the results using different thicknesses of drawing pens
3 : Try to draw different patterns using drawing pen with fine point, and color some filled zones using drawing pen with thick point…
The goal is to be able to color relatively quickly without spilling outside the colored areas.

4 :

With a pencil (H or HB), and these drawing pens

: Try to make shadow effects in some forms drawn with drawing pens.
For this, you must color gray zones with the pencil. You can obtain an infinity of different shades of gray by varying the force you use to color, and/or the duration of the coloring.
Now you can learn to draw Zentangle ® patterns …