Domandalas is a fervent user of our website since its beginning. Since May 2017 she's one of our featured artists.
She offers us a tutorial to color an angel (available on the website) with fluorescent colors !
Follow this tutorial to learn how to choose between the different colors and associate it optimally, to get an incredible final result.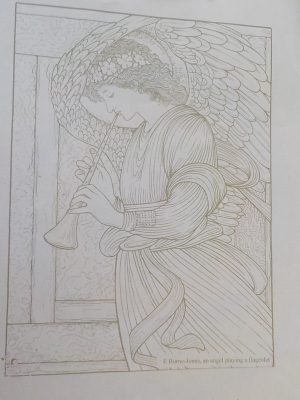 To color, you have to settle down, choose the illustration you will color.
Turn up (or not) music if it helps you focus on your work. Prepare your favorite coloring material (fine or thick felts, colored pencils, pens, or any other support).
I chose that angel.
I'm going to use bright colors.
I want it different from the traditional representation.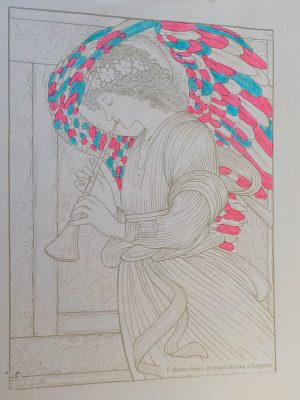 I start with the wings. I apply pink and blue a little randomly, without any particular scheme.
You can start anywhere on the sheet.
You are free of your choice and your space.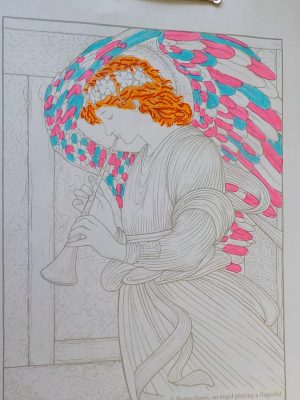 I work now on the hair that will be reddish, with the contour in red (fine felt).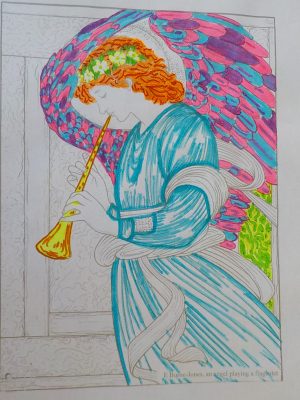 The dress of the angel is going to be white, with blue border to give light to the drawing.
The folds will be highlighted in blue.
I color the crown of flowers, then the instrument.
I add pink and blue in the feathers that I mix to get purple color.
I do a yellow-green test in the background, in a small corner, before applying it in the whole drawing.
I am satisfied of my choice of colors.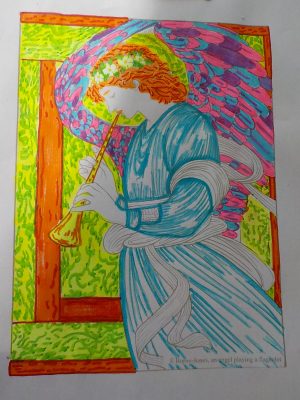 I match the eyebrows and the lips to the hair.
I color the wood with a stronger orange than the first used with the veins drawn with fine red felt.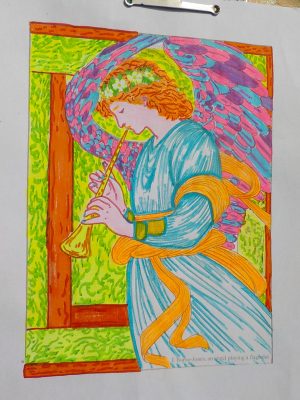 I apply a light pink on the skin (with colored pencils), everything is possible in coloring !
I color the contours of the face and of the hands with a pink felt (fine) more sustained.
I color the bracelet and the scarf, which I kept for the end, because the choice of the last color is often the most less obvious.
Here, the coloring page is finished. I spent once again a great time !