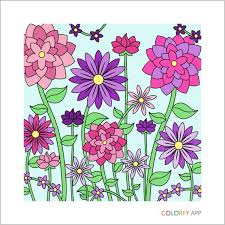 5. Colorfy
Colorfy is a coloring book with more than 500 drawings!
In addition to being free, Colorfy does not require an internet connection. So you can relax in your garden, while the children play on the console, or on long flights without wifi.
Choose the image you want to color, take your (virtual) pencil and relax!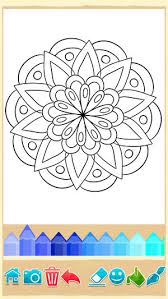 4. Mandala Coloring
It has been proven that adult colouring books that contain Mandala designs, such as flower Mandala, can have an anti-stress impact on people and can soothe the mind.
An Adult Mandala Coloring game is made of anti-stress coloring drawings and difficult Mandala that require all the attention and concentration.
This helps you express your feelings through coloring, and creates a sense of accomplishment.
Mandala Coloring has 200 pages of coloring for adults and children. These drawings vary from the easy to the complex so that everyone can enjoy a moment of relaxation and zenitude!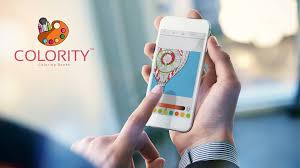 3. Colority
This coloring application is for everyone who wants to relax and reduce stress. The best thing you can do is to appreciate the benefits:

Choose from different color palettes and color shades.
Apply beautiful textures, filters and stickers to images.
Art gallery to save your atwork.
2. Happy color
Discover this new coloring application and discover all different and unique designs, with animals, unicorns, Mandalas and many more!
Color and re-color your favorite images, rediscover the pleasure of coloring.
You can Color and create beautiful images that you can save and share with your friends.
The strength of Happy Color is the constant addition of new coloring pages, moreover, the application is very easy to use, so it is suitable for all amateur colorists.
1. Pigment
Relax with Pigment, the latest coloring book app. You can choose to "tap and fill" or immerse yourself in the unique Pigment coloring experience that allows you to color as you would on paper, with 21 different pencils, markers and brushes.
Pigment offers the largest collection of high-quality illustrations, including flowers, mermaids, animals, landscapes, Mandalas and much more!
Once you're done coloring, you can easily share your creations with friends and family and even print them.
Pigment is the only coloring book application that simulates pencil, marker and brush strokes for a realistic coloring experience.
Unlimited number of colours using professionally selected palettes and innovative colour control.
The best is that you try these applications yourself at the following links:
App Store:5. Colorfy — 4. Coloriage Mandala — 3. Art thérapie coloriage — 2. Happy color
1. Pigment
Google Play:5. Colorfy — 4. Coloriage Mandala — 3. Art thérapie coloriage — 2. Happy color –1. Pigment