Recolor is a mobile application, available for iOS (Iphone, Ipad…) and Android. It defines itself as a "high-quality colouring book on mobile".
Recolor includes +1100 illustrations, organized into different categories (Like on Just Color : Mandalas, Animals, Flowers, Zentangle …)
The complexity of the coloring pages available is from beginner to expert-level. So it can be used by children as by adults.
With Recolor, you can color simply by adding colors in the different zones. But you can also use other techniques : special pens, styles, filters … that we will explain in this article.
Unfortunately, everything isn't free in this app, you can only access and color some free illustrations. If you want to color more coloring pages, you will have to pay !
Let's see it in details with our full review of Recolor ! A perfect app to color the numerous Adult coloring pages of Just Color …
Our review of the application
We have tested Recolor on Iphone 7. The screens can be a little different if you use other devices, or if you use the Android version.
So, here is our first impressions on this application : screenshots and explanations.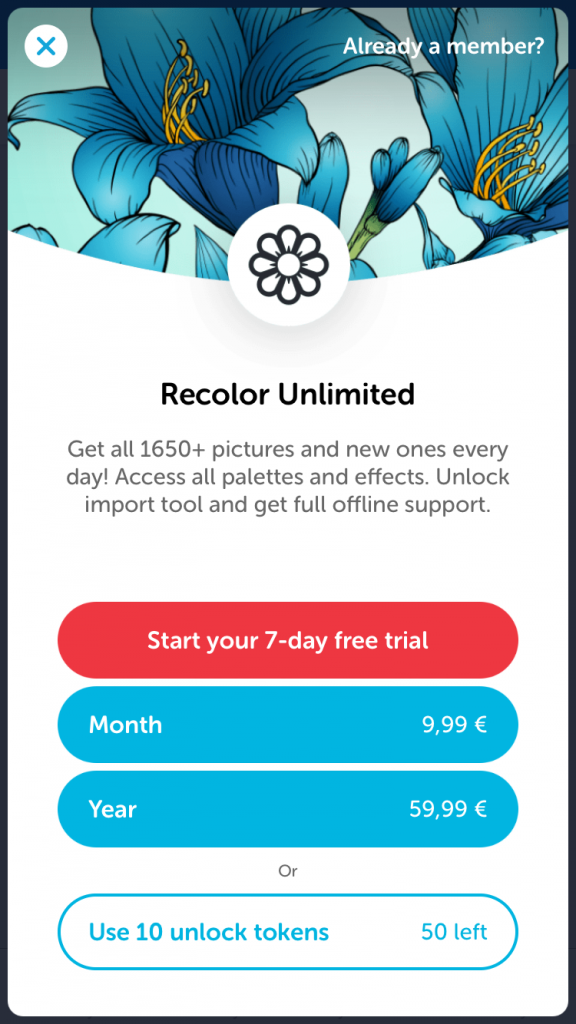 At your first arrival in the application, you understand that everything won't be free …
Recolor proposes you either to :
– Start a 7-day free trial
– Pay for a Month
– Pay for a Year
– Use tokens. You have 50 free tokens that can be unlocked, to have more you will have to pay.

This screen will appear very often … too often ! When you try to open an illustration that is not free, or after having added some colors or gradients in the illustration you've chosen.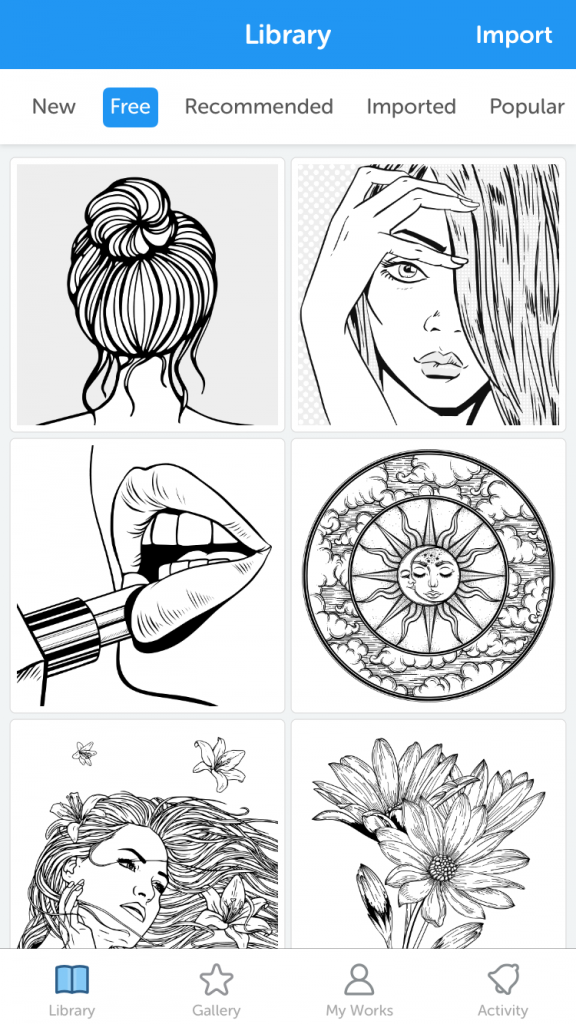 Here are the home screenshots of the app.
You can click on different tabs :
– New : Contains the most recent illustrations, aggregated by month. There are free coloring pages, and other reserved to premium users (who have paid).
TIP : you can identify which illustrations are reserved to paying users by a little flower (the Recolor logo app) at the bottom right of the image.
– Free : Only the free coloring pages
– Recommanded : Free or premium illustrations, recommended by the application team
– Imported : You can import your own photos or drawing, or coloring pages downloaded from our website JustColor.net, and turn it to "virtual" coloring pages …
This transformation process works better if the original image is highly contrasted, with well delimited zones.
– Popular : The most downloaded illustrations. In this section, we haven't found free illustrations.
– Category tabs : After these first tabs, you will find category tabs : 3D, Artists, Birds, Bouquets, Cats, Celebrations, Dogs, Fantasy, Fashion, Florals, Folk Art, Food, Hair, Insects, Kids, Lowpolys, Mandalas, Messages, Objects, Patterns, People, Pop Art, Portraits, Scenery, Scifi, Sea Life and Sports.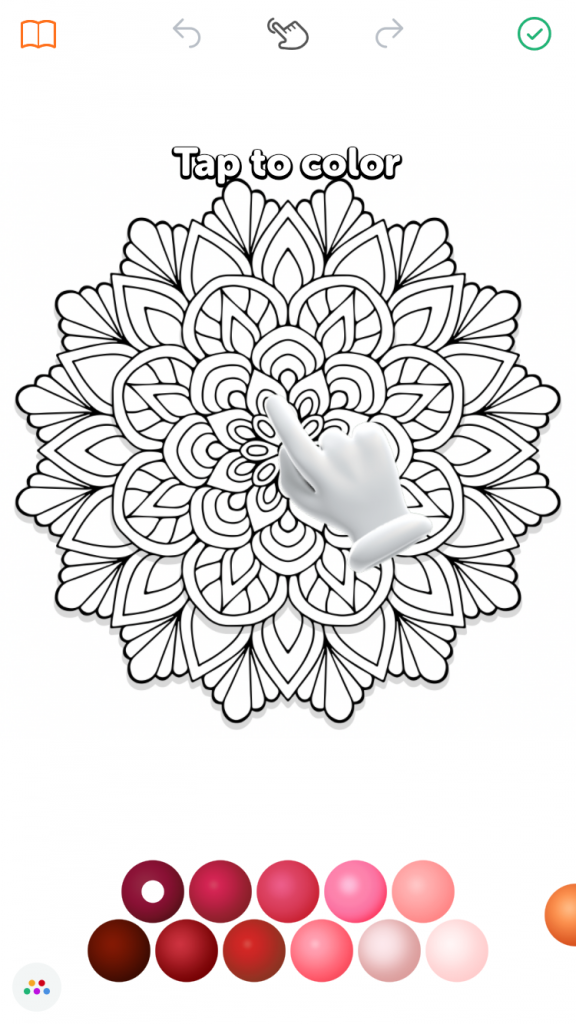 Now, let's see how you can color an illustration with Recolor …
First, open the illustration. Chose a color in the bottom of the screen.
By default, you have access to the "solid colors". It means the colors you will use to fill areas uniformly.
The colors are grouped by "families" (Red, Blue, Green …). You can switch between the different groups of colors by sliding the the left, to the right …
To fill an area of the illustration, as explained in the integrated tutorial, you just have to "Tap to color" !
You can use the usual touch gesture controls for mobile interfaces if the area is to little … So zoom, unzoom, move …
If you have made a mistake you can undo or redo (icons at the top of the screen).
You certainly ask what is the use of the finger icon between the undo and redo icons ? Well it can be very useful if you want to color many areas with the same color, in one gesture !
Click on it, chose a color, slide … all the areas covered by the slide movement will be colored with this color. Wonderful !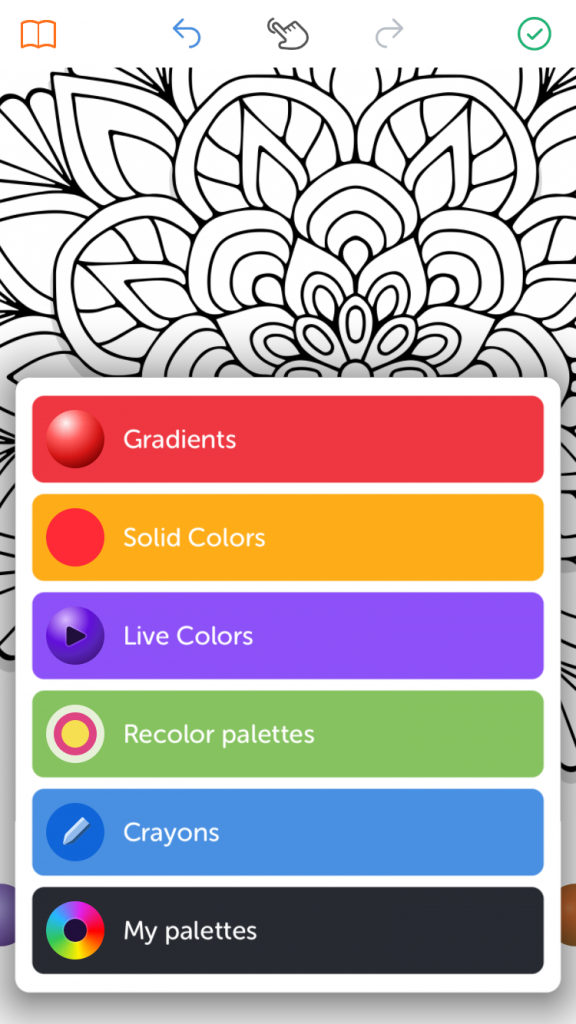 As we said in introduction, Recolor allows you to color by different ways. Some are very surprising and original, and never seen before !
Let's take a look on the different types of tools available :
– Gradients : Do you know Chameleon pens ? These incredible pens allow you to color creating incredible and very artistic gradations. With the Recolor app, this will be also possible on your mobile / tablet !
– Solid Colors : No need to explain 🙂 The simplest way to color, and the most appropriate if you prefer uniformity
– Live Colors : Certainly the most original way to color ! With the "live colors" added in your areas, the colors and the gradations will move, like for example in water ! Just incredible
– Recolor palettes : It's groups of colors that coordinate well together. These sets have been created by the Recolor app team. For example, you will have access to a set named "Wildlife", with blues reminding the colors of lakes, lagoons, seas … greens and browns (light to dark) perfect for the trees, the leaves, the vegetation …
We have appreciated the set "Electric" with very bright colors (maybe too much …).
Other names of sets : Pearl, Paradise, Glass, Vintage, Sunset, Rosanne, and our favorite by far : Joyful !
– Crayons : With crayons, you can color the different areas of you illustration in a very realistic way. Unfortunately, the line is a bit too fuzzy. Anyway be reassured : It's impossible to color outside the lines !
– My palettes : This feature allows you to create your own sets of colors, and to use it easily while coloring your illustrations. Perfect to give your own style to your different artworks.
In the screenshots below, we show you the incredible beauty of the gradient effect. It's perfect to color petals or other things that come from Nature. You will also see some Recolor palettes, and have a(static) view on the Live colors. For it, imagine that the shadows and gloss effects are slowly moving ! Wonderful.
Mixing colors and gradations, the possibilities are endless !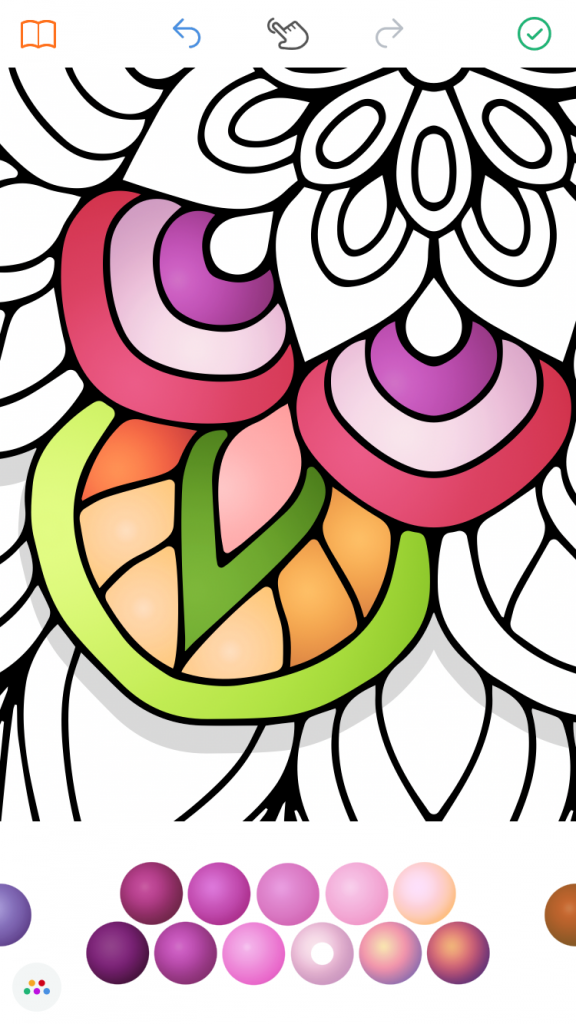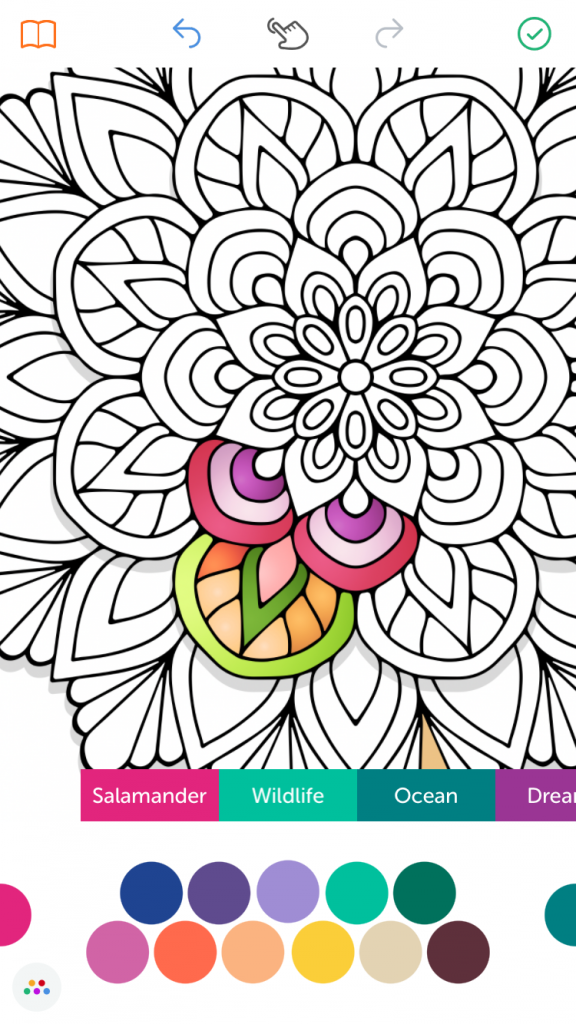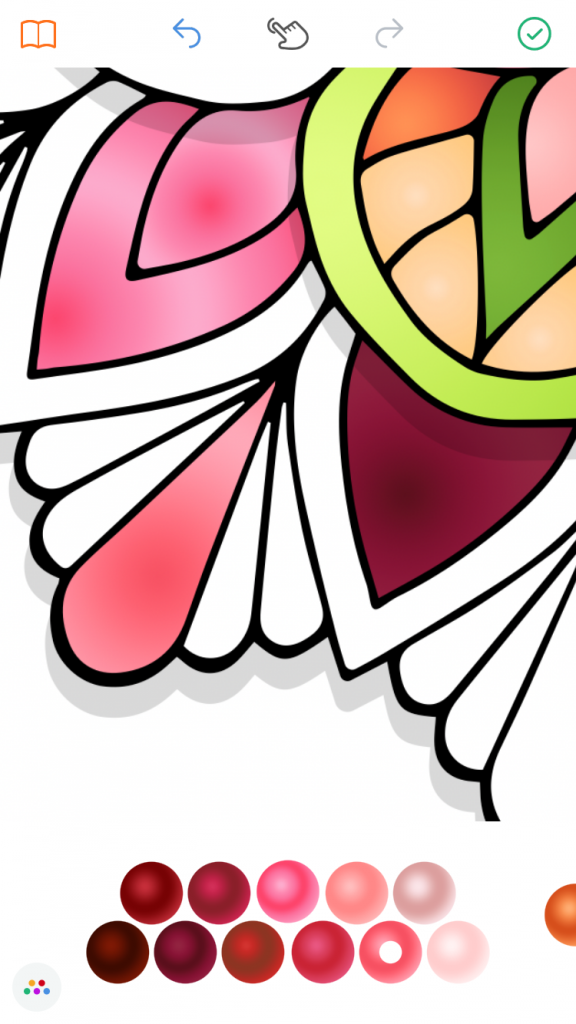 When you've finished to color … it's not finished ! It's possible to add :
Effects : Useful if you want to give a "texture" to your artwork : art paper, crumbled paper, wall … Some effects aren't available in the free version, and you will see the usual screen that asks you to … pay
Filters : The filters work the same way as in Instagram : they change the global aspect of the artwork by modifying the temperature or the balance of the colors.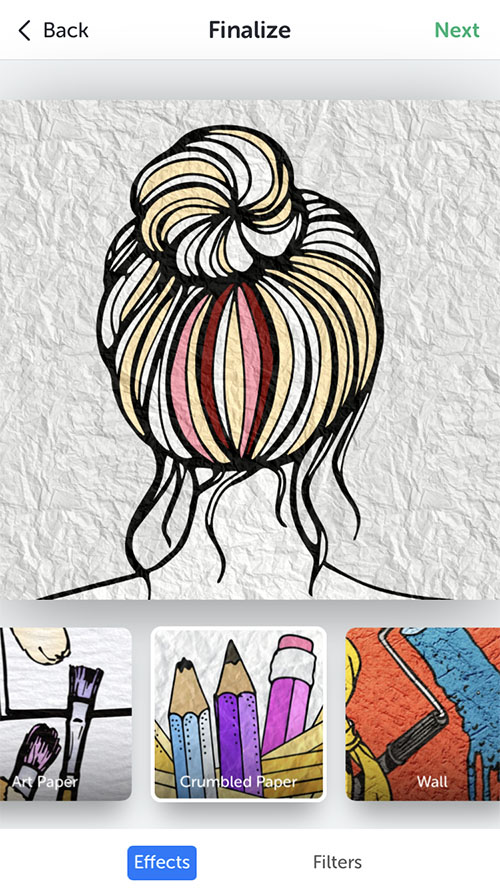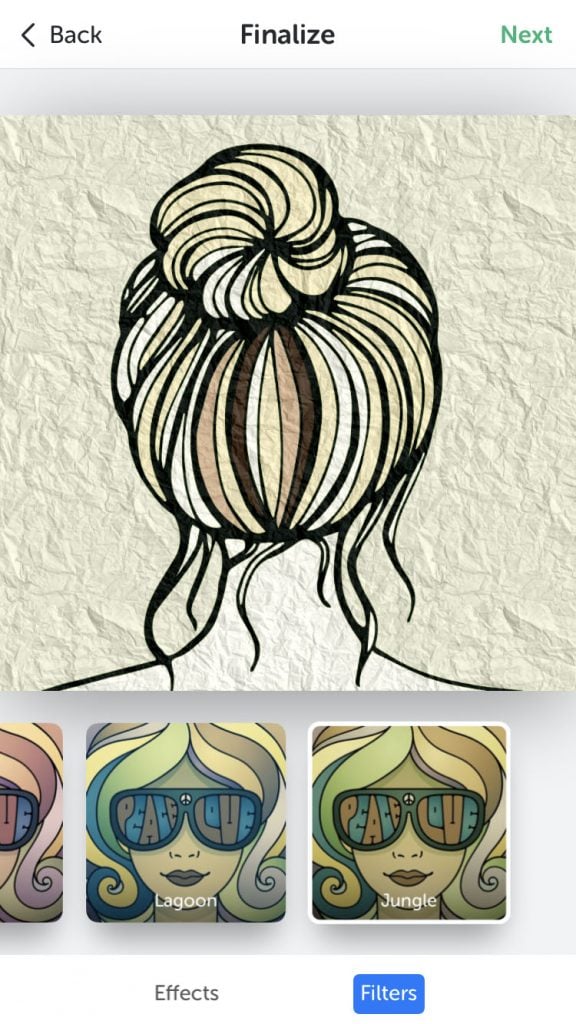 A last thing we wanted to show you, is the "social" functions of the Recolor mobile application.
If you often use Instagram, you'll understand very fast how it works. You can store and show your best artworks in your page, Follow other "colorists" to see their work.
Recolor app also proposes you to see artwork they selected ("Highlight" tab), Search people, the the last creations added ("Everyone" tab).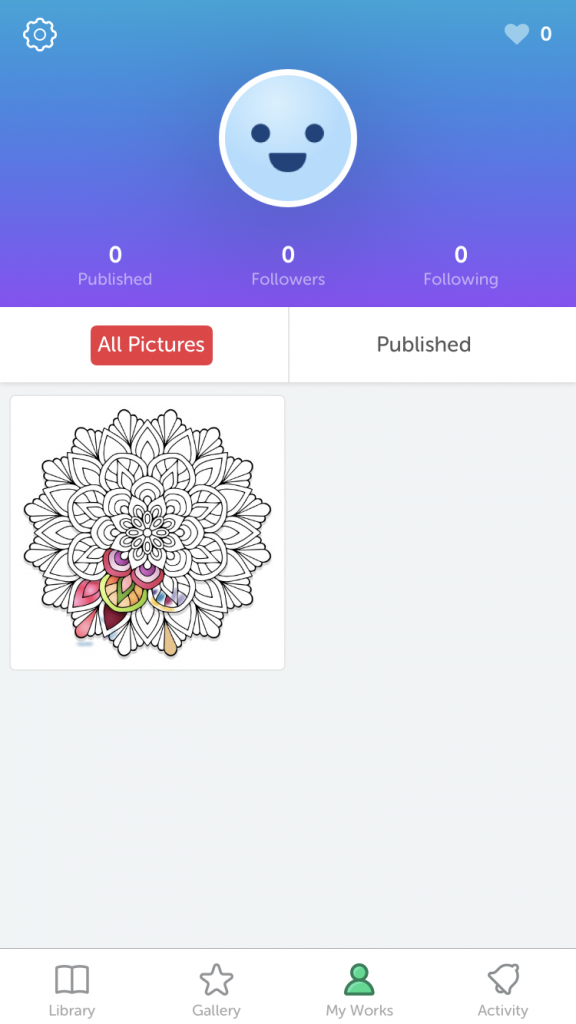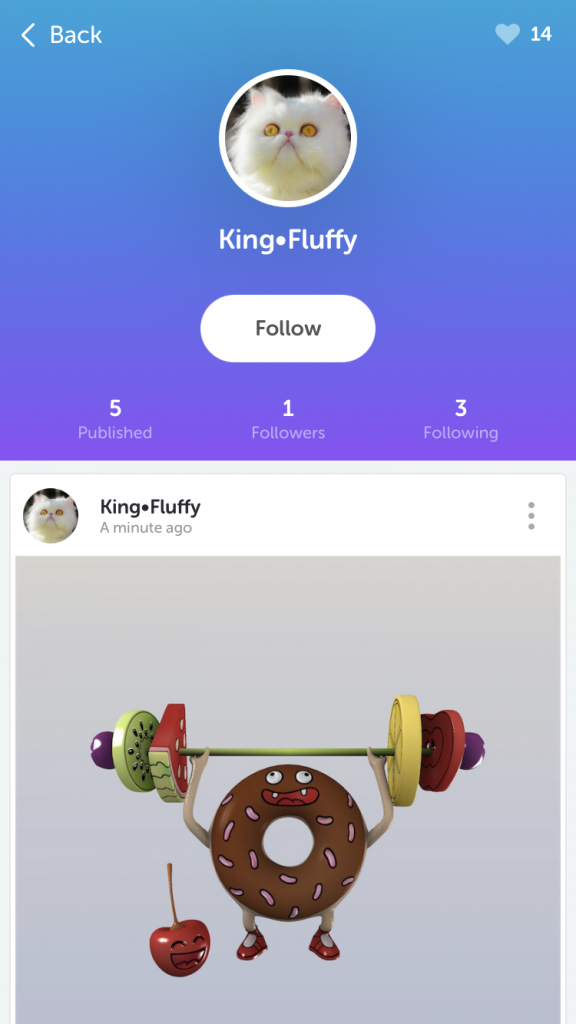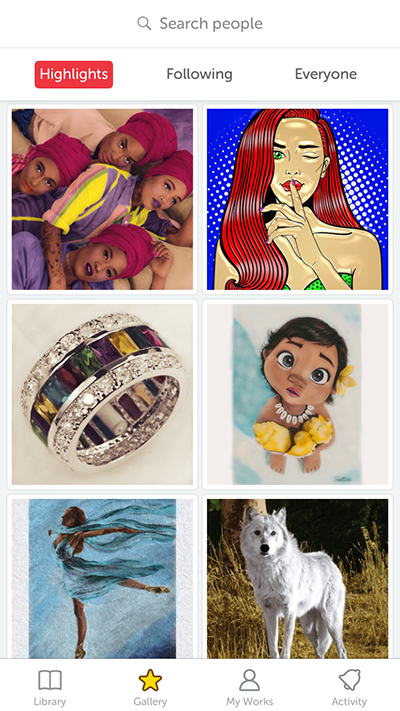 The prices
You can use the app in its free version, but as we said, it's limited. The subscriptions are :
$2.99 USD weekly

(no more available at the moment we wrote this article)

$7.99 USD monthly
$39.99 USD annually
(or equal to the same price tier that "Apple's App Store Matrix" determines in other currencies.)
Don't forget you can have 7-day free trial to test the app ! Don't hesitate to test it before subscribing.
Other possibility, you can buy credits (tokens), it can be a good opportunity if you don't want to pay every month.
User reviews
On Google Play and Apple App Store, we can see the reviews, and it's obvious that Recolor is a very appreciated coloring book app for adults.


Recolor app user comments on Apple App Store
Video Review
Here is a good Video Review of Recolor, all functionalities are shown and explained.
Conclusion
Recolor is a very very good mobile application, with numerous high quality illustrations (very diversified), and various ways to color. We were very impressed by the Live colors ! Something that even the best artists and colorists can't make in traditional coloring, despite their talent.
The potential are endless because you can create your own palettes, import illustrations you get on the adult coloring websites like JustColor.net or created by yourself if you also like drawing …
The social functions are good, but the export options are very limited. For example, we didn't found simples ways to publish artwork on Instagram, Facebook, Twitter … Other lack : impossible to create video or gif from an artwork created usine the Live colors 🙁
Last point, it's just too bad that the free version is so limited … and that the subscription screen appears so often ! It disturbs your work. But it's a high quality application, without ads, so it can be seem justified to pay for a full access.
Here are examples of creations made with Recolor App
Impossible not to finish this article by showing some incredible creations created with the Recolor App. It's artworks created with the gradations, effects, filters … All the incredible potential offered by this mobile application.
Some of the images presented below have been created by users of our website JustColor.net , using illustrations available in our different galleries (Like Animals, Mandalas, Special events like Christmas…) !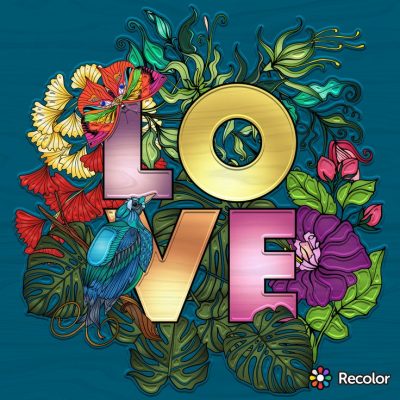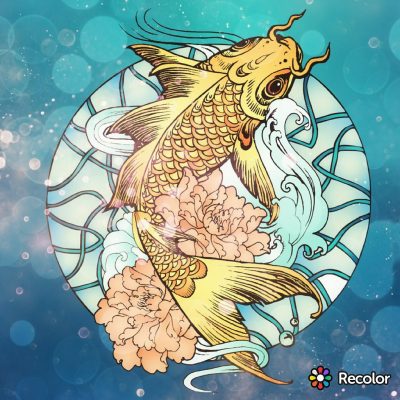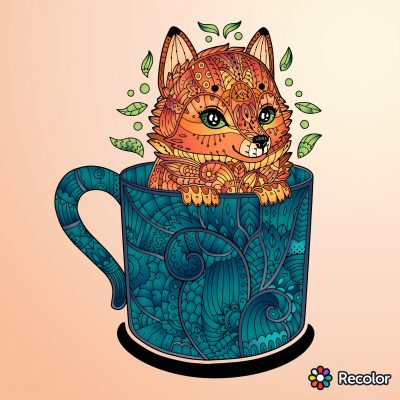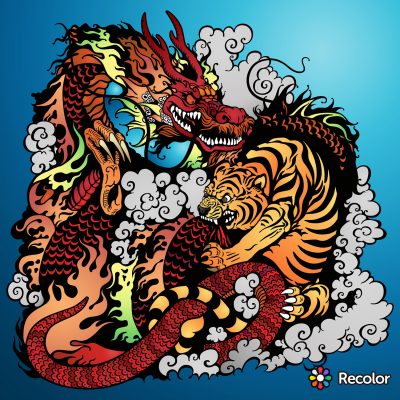 Installation
To install Recolor on your device, follow these links :
On JustColor.net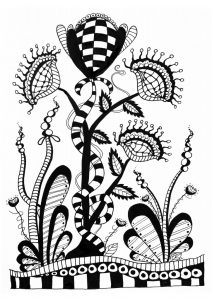 Don't hesitate to explore our different galleries of free Adult coloring pages, that you can add in the Recolor app very simply with the import feature.
You can also see our users creations, some are made using this App !