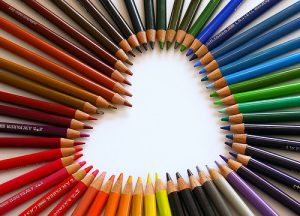 You were 600 people who answered the question: "Why do you like coloring?" . We thank you for your participation! Congratulations to Gwendaliña Léoña Joly for winning our contest!
We have resumed your comments and here are the three main themes: relaxation and isolation, sharing with family and friends, therapeutic virtues.
1. Relaxation and isolement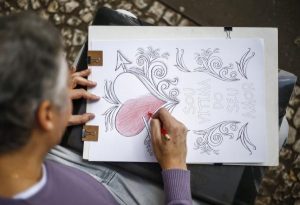 Coloring is a leisure that allows us to relax, to decompress: thanks to the concentration required, our mind escapes into a universe and it calls the creation. We search to associate the right colours with the right forms and this requires reflection and calm. This hobby allows for a moment to forget his worries, to commited body and soul to the coloring. Many people practice this art because it allows them to find yourself alone, in front of yourself and live a moment just for oneself .
Caroline : " Coloring is synonymous with relaxation, I forget during this time all my worries of the day. "
Audrey : " Coloring allows to decompress as well for me as for my children, who are very active, that leisure helps to channel his energy and to be concentrate. "
Emilie : " The coloring simply relaxes me and allows me to have a little moment just for me. "
Christine : " The coloring relaxes me calmly when I am alone, it is so nice !! "
Christopher : " I love the coloring to relax, I spend a lot of time doing this during my rest days. "
2. Sharing with family and friends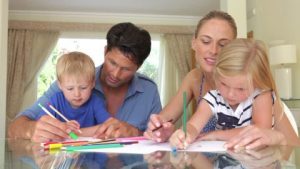 You are numerous to share this passion with your children and small children and also with your friends. Coloring pages allows you to share a good time with your family and connect with them. It is accessible for all and that is why it is adapted for the whole family.
Gwendaliña : " Coloring is for me a real moment of relaxation and sometimes, I share this with my children . Putting colours into our lives make it better. "
Séréna : " I spend time with my kids, they make little drawings and coloring pages for adults for me. We love these moments. "
Virginia : " I like the coloring, it allows me to spend good moments of sharing with my daughter. Since I have known the Mandalas, I can not do without them. "
Martine : " It's an activity that I can share with little children who also love it. "
Gwladys : " I color to find my child soul and share a complicit moment with my daughter, each her book of coloring! "
Céline : " I like the coloring because it allows me to clear my mind. It's a passion that I share with my girlfriend and the coloring moments together are really fun! "
3. Therapeutic virtues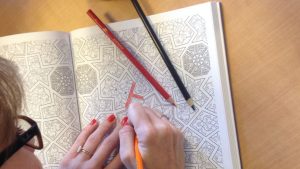 Many of you coloring to forget their health problems, but also to fight against smoking. Art therapy is a way to get out of depression and let go.
Nathalie : " I started coloring during a very long sick leave after an operation. It was from that moment that I was able to let go. I always appreciate the coloring and I realize that we are a large community. "
Eliane : " I discovered the coloring in the hospital. Since then, I have become completely addicted. It really relaxes me and I smoke less. "
Marie-Annick : " After a depression, a friend had advised me to do anti-stress coloring pages. I started the mandalas a few years ago now. "
Cindy : "Coloring helps me a lot to overcome my chronic disease and my depression. Since I have been a disabled person, I busy myself with the coloring. "
Adèle : " I started to color because I had to quit smoking and I succeeded! Since I don't smoke and it's just pleasure to make coloring pages. "
Isabelle : " Coloring is a rehabilitation therapy for multiple sclerosis and a source of well-being. "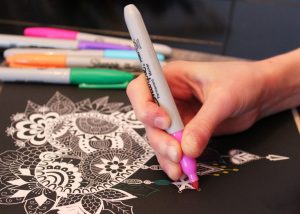 In your opinion, coloring is much more than an art. First of all, it allows to relax, to decompress, for example after a day of work. This activity allows you to find yourself alone in front of yourself, to take a moment for yourself and to be in one's own bubble, a world, that of your imagination.
Unlike isolation, coloring is a way to share a moment of complicity with his family but also with his friends. This leisure adapted to all allows to stronger ties.
Finally, coloring has allowed many people to overcome their disease, their addiction but also to keep the morale up, to clear their mind and forget for a moment the disease.