We had the honor to visit of the exhibition Michael Jackson – On the Wall held at the Grand Palais in Paris, France, from November 2018 to February 2019.
This exhibition, originally installed at the National Portrait Gallery in London, aimed to show the influence of the King of Pop on Contemporary Art through works by around 40 famous artists of the 20th and 21st centuries.
Michael Jackson was above all an outstanding musician / singer / dancer, with a considerable career and international fame, but because of the unique image he has shaped over the years, he has created a myth which has necessarily been a source of inspiration for some artists, starting with the greatest representatives of Pop Art: Andy Warhol, Keith Haring or Jean Michel Basquiat.
These creations explore the complexity of
this artist, both in terms of personality and his artistic musical and choreographic choices and how he
dialogue with social and cultural issues
and policies of his time.

Vanessa Desclaux, Associate Curator of the exhibition
The works presented in this exhibition date, for the older ones, from the 70s, when Michael was still performing with his brothers in the group of Jackson 5 (later renamed The Jacksons). The most recent have been created several years after his tragic death (June 25, 2009) which shows that the myth is alive and well beyond the scope of music …
Let's discover the pictures that the Just Color team took during this incredible exhibition in Paris !
Appau Junior Boakye-Yiadom, P.Y.T, 2009

Kehinde Wiley, 2010

Thriller lyrics …

Dara Birnbaum, from the short film The Way you Make me feel (1987)

Yan Pei Ming – in memory of Michael Jackson – 2017

Dawn Mellor – 2007 – inspired by the short film Thriller

Faith Ringgold – 1988 – Who's Bad ?

David LaChapelle – 1998

David LaChapelle

David LaChapelle

Mark Ryden, King of Pop (#135), Acrylic on panel with wood carving, 1991-2018

Keith Haring – 1984

Andy Warhol – 1984

Mr Brainwash – 2014 (for Xcscape record)

Isa Genzken
Many media were present in this exhibition : Drawings, paintings, sculptures, photos or videos … which gave it a totally heterogeneous dimension. For fans of the King of Pop, the chronology of his career was respected, with even some televisions broadcasting some short films (Smooth Criminal, Earth Song …) and extracts of concerts.

It is to be regretted that the famous Jeff Koons sculpture representing Michael and his chimpanzee Bubble, made of porcelain and gilding, could not be lent to the exhibition.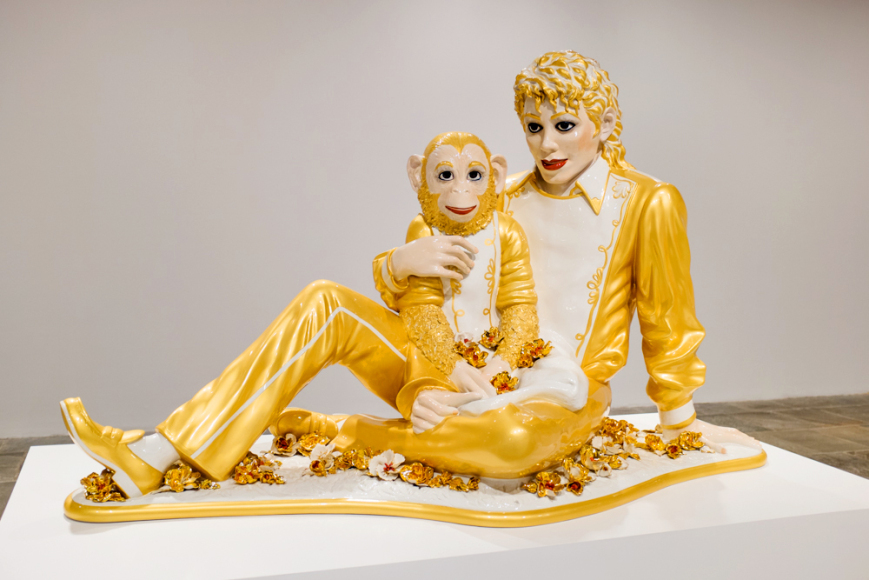 One of the most moving elements : the entire Thriller album sung by a groin of fans, a capella and filmed from the front !

This exhibition will continue to travel in Europe : Bonn in Germany, Espoo in Finland … Do not hesitate to go see it if you can, whether you are a lover of Contemporary Art, Fan of the artist … you will necessarily be transported in the legend of Michael Jackson …
Want to see more? Do not hesitate to watch this video which presents in detail the exhibition Michael Jackson – On the wall
To continue, we can only advise you to listen to the music of The Kinf of Pop, why not while coloring one of these coloring pages which you will find on the website :