Coloring page : Henri Matisse - Odalisque in a yellow Persian dress
Coloring from 'Odalisque a la robe persane jaune' (1937) by Henri Matisse
In this painting, Matisse uses his familiar model, Hélène Galtzine, to depict a figure dressed in a yellow Persian dress, surrounded by the painter's personal objects, creating a dreamlike interior. Inspired by his travels in the Maghreb, Matisse revisited the odalisque motif, inherited from Orientalist nudes, modernizing them and transforming them into archetypes of the modern woman between the wars.
From the gallery : Masterpieces
Artist : Jade F
Original work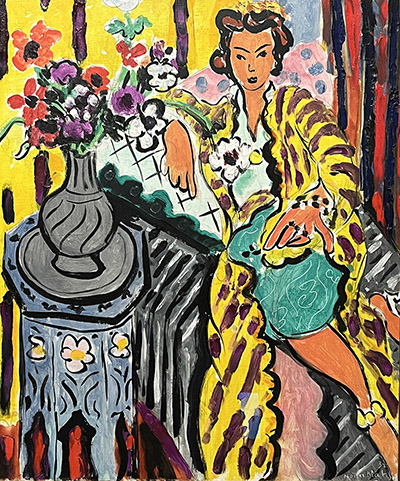 Odalisque in a yellow Persian dress (1937)
Henri Matisse (1869, 1954)


Contests with gifts to win are often organized ...
Join our Facebook group quickly !