JustColor.net features new exclusive coloring pages of animals distributed among various galleries !
The "Animals" gallery has been reorganized to make it easier for you to find contents. No need to browse dozens of pages looking for the coloring page of the animal you want. Since February, the gallery of animals previously containing around fifty coloring pages, has been divided into thirty sub categories arranged in alphabetical order.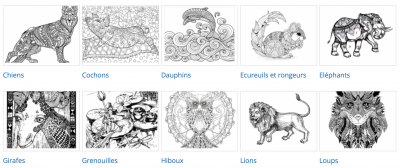 Each sub categories represents an animal.
You will find not only wild animals but also domestic and farm animals : cats, dogs, lions, wolves, camels, turtles, fishes, elephants, dolphins, deers, pigs, snakes …
Read moreEmbark on an incredible safari : new animal coloring pages galleries